Company profile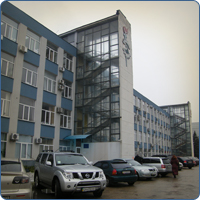 Aeromarine SRT
Aeromarine SRT is a private limited company with more than 15 years of successful performance on the international markets. Main company guideline is the design and manufacture of marine safety and specified test equipment. We'd like to emphasize that Aeromarine SRT is currently the sole manufacturer of these products based in Ukraine or even in ex-USSR countries.
Every business aspect goes under the radar:  initial product design and engineering, the production itself, sales and marketing, customer service and repairs.  The highest quality and the latest technology engagement are the main distinguishing features of our products. The most experienced and skilled engineers are busy to produce high performance equipment for the most severe conditions. The latest test procedures and instrumentation are engaged to reach the result.
Our products are sold in more than 30 countries all around the world and successfully used by ship surveyors, equipment suppliers, classification societies and administrative authorities for many years. The greater part of the radio-survey stations and local administrative authorities of CIS countries (e.g. in Russia, Ukraine, Azerbaijan, Georgia, Kazakhstan) are equipped with GMDSS test products for annual survey (such as SARTs, EPIRBs, MF\HF\VHF with DSC, Navtex, mobile AIS stations).
The company has Ukrainian and Russian Marine register approval and certified as consistent with the ISO 9001-2000 quality requirements.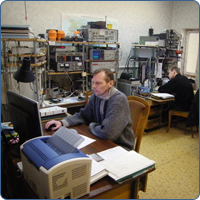 Specified test equipment custom solutions
Emergency radio equipment and testing equipment research and development is the main branch of our business and the quality of our products is the key factor of successful business conduction and the technological leading. We also would like to emphasize that we produce products designed and developed to meet specific customer needs.

Consider long-term expirience in the field of emergency radio equipment development Aeromarine SRT sets forward also some services in developments according to specific custom needs such as any testing equipment system solutions and others.
Please contact us if you have any questions concerning the developments or improvement of test equipment. High-end products of Aeromarine SRT gain popularity on the market quite a while.
Our history
Aeromarine SRT was founded in 2000 after the dissolution of the Musson Exim company which  was in charge for marine equipment development. Musson Exim was the part of Musson group of companies – the largest USSR enterprise of military satellite and radio communication. In 1985 company regular staff list was about 10 500.
Our company business guideline is EPIRB, SART, test equipment for COSPAS-SARSAT and GMDSS marine equipment manufacturing and selling.

Principal points in history of the company
2000  – Aeromarine SRT company foundation.
2000  – development of new portable tester for COSPAS-SARSAT radio beacons.
2001 - the company enters into an arrangement for marine emergency beacon EPIRB М-406 full development, manufacturing and further COSPAS-SARSAT certification.   
2002  -  has been developed a new SART tester for an annual calibration procedure for search and rescue radar transponders of any manufacturer according to the IMO resolutions.
2002 – first sale of the GMDSS test equipment complete set to the USA customers.
2002-2003 - main company activity is developing, manufacturing and sales of the GMDSS marine test equipment and advanced COSPAS-SARSAT beacon ARB-M and MP-406 development.
2004 – MP-406 certification.
2004-2006 - Aeromarine SRT company develops and certifies ELT S и ELT AF equipment by contract with  JSC Navionika, Kiev.  ELT AF wasn't certified because of financing withhold in 2005-2008.   
2005 – COSPAS-SARSAT receiver upgrading and new BEACON tester 406-02 model developing.  Developing of the new MRTS -7 GMDSS tester with DSC function test (for marine radio communication, also Navtex receivers testing ability is supported).     
2007 – participation in developing and COSPAS-SARSAT certification of PLB for (Yaroslavl Radio Plant) for Russia force of arms purpose.  
2008 – New AIS tester (A and B class) developing for annual checks for compliance with the requirements SOLAS и IMO.    
2009  - new AIS SART developing according to the IMO requirements (codename AIS-SART Musson – 505) and modernization of the dated 9 GHz SART – Musson-502  by developing new model RADAR – SART Course.
2014 - We moved to new location - Nikolaev, Ukraine.
Company address: 54010, Buznika Str. 5, Nikolaev, Ukraine,
The certificate of state register:
No 40167811
VAT No: 401678114049