Sarsat Beacon Monitor 406
Cospas-Sarsat Distress Signal Fixed Receiver (hereafter as Sarsat Beacon Monitor 406 – 406MHz emergency radio beacon monitoring system) is intended for 406MHz emergency radio beacon rapid signals reception, decoding and positioning. The equipment is destined to reduce rescue operation time.
Product Overview
Description
Cospas-Sarsat Distress Signal Fixed Receiver (hereafter as Sarsat Beacon Monitor 406) is 406MHz emergency radio beacon monitoring system. This rare equipment is capable very rapidly receive, decode and position signals of any 406MHz emergency radio beacon.
We propose to use Sarsat Beacon Monitor 406 in seaport services, rescue marine centers, coast guard rescue centers or GMDSS rescue coordination centers. However, this system has various prospective effective use fields. SBM 406 is a wide range ground COSPAS-SARSAT signal receiver which allows to locate emergency rescue signals sent by any 406MHz beacon in local responsibility area. The device can be connected to PC or laptop, and this gives possibility to observe distress signals and beacon position data on monitor.
Cospas-Sarsat Distress Signal Fixed Receiver assures signal monitoring and processing of the following devices: EPIRB, SASS, PLB.
Rescue operation by SARSAT Beacon Monitor 406
SBM 406 gives possibility to seamen or passengers in distress to be saved rapidly.
Usually when a vessel is in distress, the EPIRB transmits an emergency signal, which can be received only by a satellite. Then the signal comes over a sequence of authorities before it comes to rescue center that sends rescue team to the suffering distress.
With SARSAT BEACON Monitor 406 the emergency signal will be received directly and immediately by local rescue center.
This allows to receive signal 5 to 30 minutes faster than by satellite channel and to start the rescue operation immediately.
Even taking into account that main navigational areas are overlayed by GEO satellites and distress signal is received at first message the time lag nevertheless will be about 5-10 min, or up to 40 minutes near equator. As the device has AIS signal receiving system it is obvious that center operator immediately sees the distressed object nearest vessel and gives instructions for vessel rescue operation via VHF connection.
Specification / Features
Integrated rescue operation facility
Sarsat Beacon Monitor 406 can be used as integrated rescue operation facility in case of distress to minimize the rescue operation time.
The system reduces the emergency signal reception and processing time in coast guard rescue service responsibility local zone and, by means of integrated AIS module, displays the received signal and localize it on PC. In such a case operator quickly observes and requests for help the nearest vessel in local zone, which can render assistance.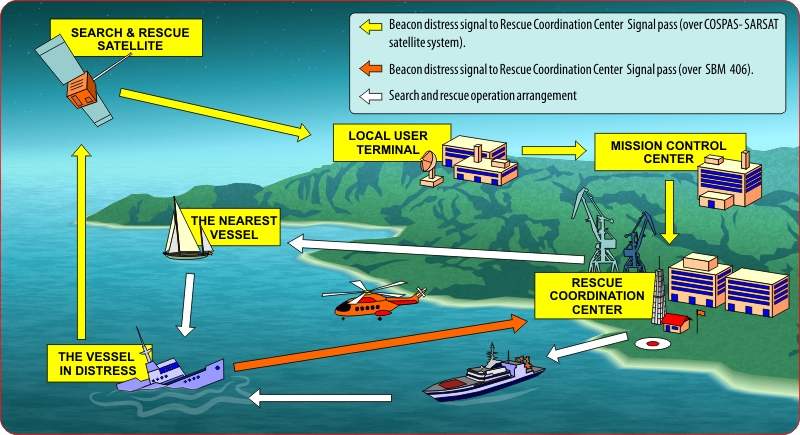 System provides the possibility to create a receiver's network using Internet protocol for wide area network covering.
Certification and check system
The device allows to carry out the annual or regular EPIRB operation check procedure in volume of IMO requirements by reception and check of all beacon's parameters.
SBM 406 allows to provide EPIRB testing on air that clearly demonstrates and confirms product operation. Besides, results of checking can be saved, according to IMO requires for the ship-owner. Thus, the port authorities are able to issue EPIRB operation check certificate by themselves and hereby save port facilities' funds.
Device allows to locate and process all false emergency signals on local area and gives the right to port authorities to impose a fine for false distress signal in accordance with Cospas-Sarsat recommendations.
Connection to PC
Sarsat Beacon Monitoring System requires to be connected to any PC or laptop for proper operation. The connection is carried out by means of standard USB cable or Ethernet port and special software. The minimal requirements are Microsoft OS, such as Windows XP, Windows Vista or Windows 7 or 8. No special hardware configuration is required.
Also the special FTDI driver should be installed for proper connection. It can be downloaded at our web-site as well.
Connection to PC does not cause any difficulties. Connect one side of USB cable to SBM 406 and other to PC. Then install the drivers following the standard Windows wizard. After the driver is installed run the software. No installation is required. Just run the software and start operation.
Complete set of Sarsat Beacon Monitor 406
Sarsat Beacon Monitor 406 includes main data receiving unit, antenna cable and fixed antenna for outdoor attachment. Main unit can be connected to PC by means of USB cable. Specifically developed software runs automatically for further data processing. System receives and decodes all the Cospas-Sarsat signals.
The standard complete set includes the software, which allows to display the beacons with built-in GPS on most marine cartography solutions. The advanced set has AIS receiver and software for data processing received from vessels equipped with AIS (class B and A).
Technical description
Power supply: 6 - 12V;
Power input: no more than 30dBm;
Sensitivity on the frequency of 406MHz: 115 dBm;
Dimensions: 180x120x65 mm;
Message decoding: all existed Cospas-Sarsat protocols.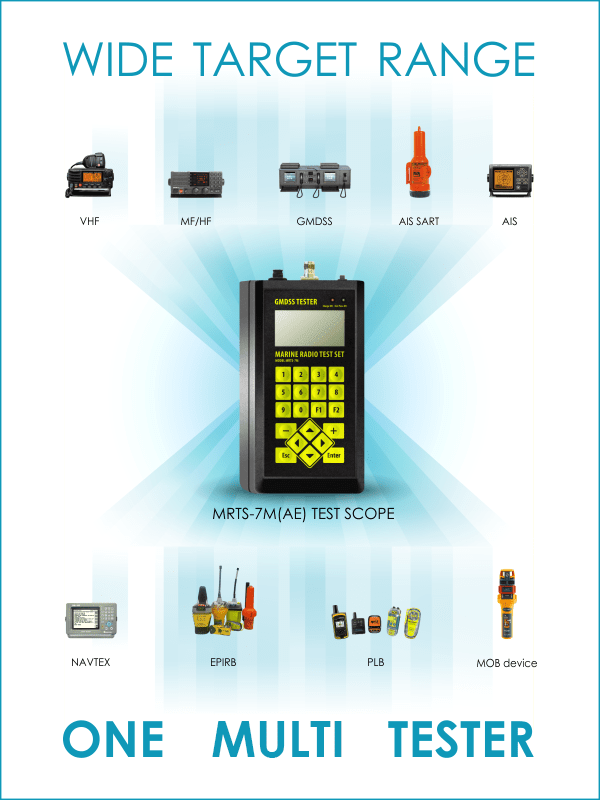 SIMPLY USE IT
We supply the testers with very friendly software.
The procedure of test report generation is fast and simple
GET IT DELIVERED
The test instruments are shipped for free of charge to any location globally.
Receive your order within 5 working days!
BUY AT BEST PRICE
Here you purchase from manufacturer directly.
Therefore we can offer you the best prices and risk reducers.
MINIMIZE YOUR RISKS
We provide global two years warranty against manufacture and firmware faults.
We assure continuous customer support, tech team is always to help and can be easily contacted.