Get ready to upcoming IMO requirements for EPIRBs
Emergency positioning beacons are one of the most important equipment on board. In case something goes wrong, one of them is of great importance in helping you and your team save your lives, especially if and when all other rescue tools have failed. Thanks to these beacons, countless lives have been saved in grave situations, such as sinking, collision and accident. Nowadays, when technology and features have improved and prices went down, in fact, nothing prevents from having such a device on board.
What new rules are about?
In June 2019 the IMO's Maritime Safety Committee enlarged the SOLAS requirements for the EPIRBs. The new rules will come into force on July 1, 2022 and since then, every EPIRB installed on a ship must have the internal AIS frequency along with the 406 MHz channel and the GNSS receiver. New requirements are set in IMO's MSC 101/24/Annex 24 2.3.16. Thus, each EPIRB installed on or after 1st July 2022 has to comply with it. (But if an EPIRB is installed on a ship before this date it may not correspond to the new rules). And the requirements for the AIS locating signal from a beacon should be in accordance with the Recommendation ITU-R M.1371 (technical characteristics for an automatic identification system using time division multiple access in the VHF maritime mobile frequency band).
What preferences AIS EPIRBs provide?
As you know, Cospas-Sarsat enables global rescue forces in case of emergency signal received, but access to some far-away ocean areas can be slow. Besides, the distress signal sent on 406MHz frequency may be received by a satellite in 10 up to 40 minutes after the beacon activation. Then the received signal is passed by a satellite to the rescue center, which organizes the search and rescue operation, and also informs nearby ships. In this way rescue may come too slow…
Having the AIS channel included, the EPIRB emits SOS signal that will be received directly by all proximate vessels equipped by AIS (Automatic Identification System). Covered area radius is about 4 miles. The GNSS technology adds location data, thus, the nearest vessel or vessels come to help immediately providing assistance, salvage and recovery.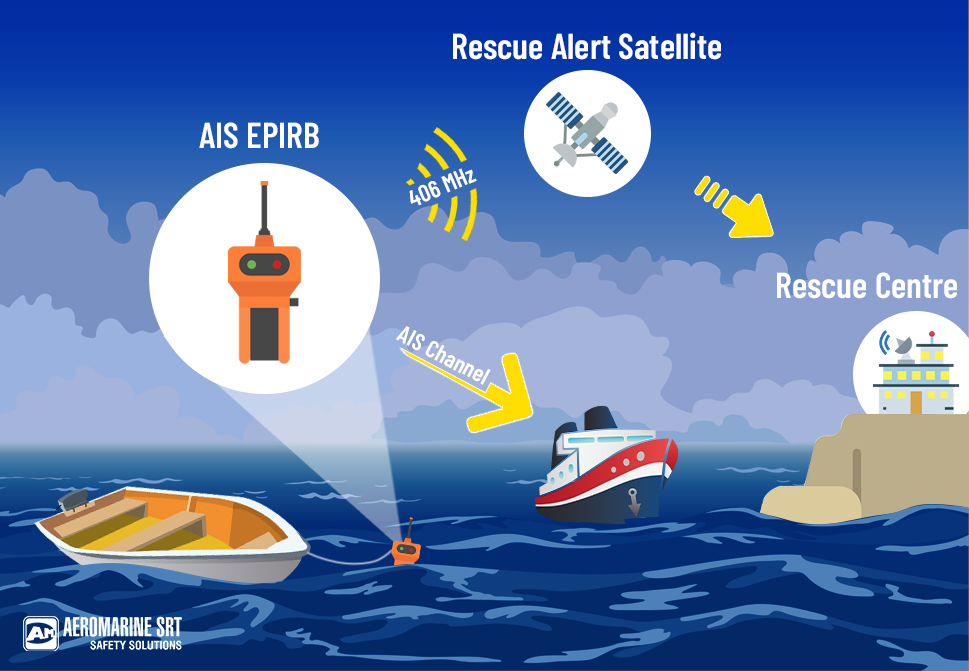 Besides, the fast reaction to the distress signal being emitted accidentally, allows to cancel unnecessary rescue operation. There are lots of false emergency signals and the search and rescue teams get aware of it only when coming to the place of non-existing distress.
The world's leading EPIRB manufacturers have already offered several models of EPIRBs complying to the upcoming rules and more devices are on the way.
Alternative for Personal Locator Beacons
Along with the EPIRBs improvement the industry also offers alternative for PLBs (Personal Locator Beacons). The ones with integrated AIS transmitter are called PAB – Personal AIS Beacon.
PABs are designed to be attached to your life jacket and can be activated in case of emergency after going overboard. They transmit both GPS location data and AIS data showing direction and distance. This signal is transmitted within a radius of about four miles. So the vessels equipped with AIS receivers accept this distress signal with coordinates, and come to the rescue immediately. Which gives an advantage over the usual PLBs that rely on the C/S rescue system.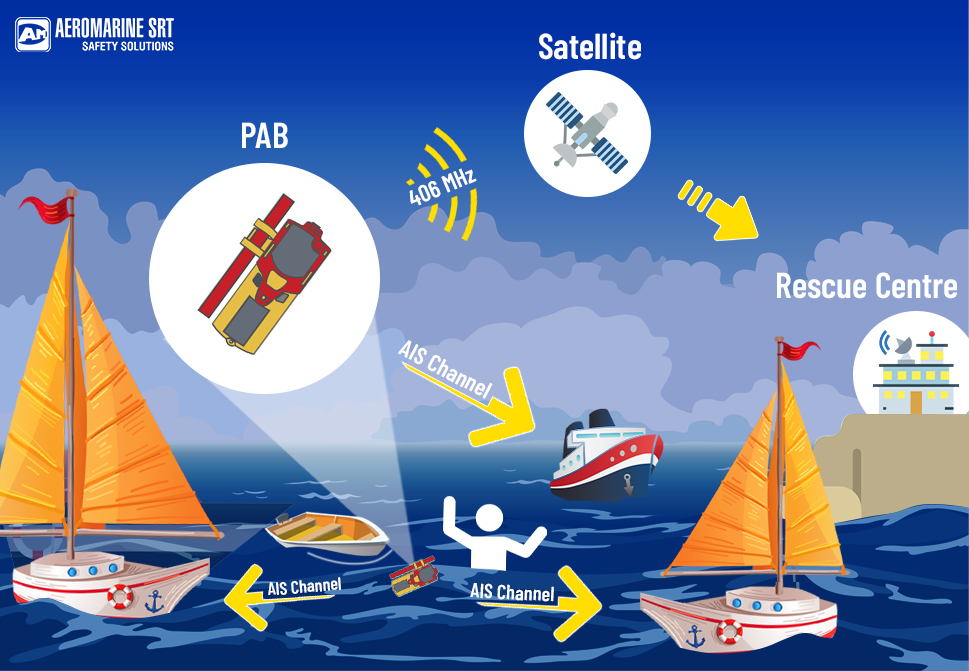 It should be noticed that PABs work well in areas with intense vessel traffic, but, devoid of the frequency range and capabilities of PLB or EPIRB, it cannot be effective in far-away or empty ocean areas. Nevertheless, PABs can be effectively used if installed on the life vest of each crew member. They are a great addition to any ship for a man overboard situation.
So, the crew or ship owners should select which variant is the best depending on the application.
Shore-based maintenance of new AIS EPIRBs require special testing equipment
The new rules for shore-based maintenance are given in Annex 1, Review and Update of MSC/Circ. 1039
Among all others, new rules require that
[… the transmitted signal should be checked with a suitable AIS receiver or test receiver for the proper AIS message transmission and to verify that the AIS message content is valid (contains the correct AIS User ID, the correct position and the correct EPIRB 15 Hex ID (note that for second generation 406 MHz EPIRBs this will be the truncated version of the 23 Hex ID))..]
So, make sure your GMDSS Testers assure possibility to carry out the survey of newest AIS EPIRBs!
The most convenient test tool for this task is certainly MRTS-7M, which checks all the signal channels – satellite channel 406MHz, the homing signal 121.5MHz, AIS channel, the presence of GNSS signal and its position data encoded. Moreover, MRTS-7M being GMDSS Multi Tester enables verifying AIS message content including the AIS User ID, the position and the EPIRB 15 Hex ID.
Comments